First Tworkov Retropective in New York City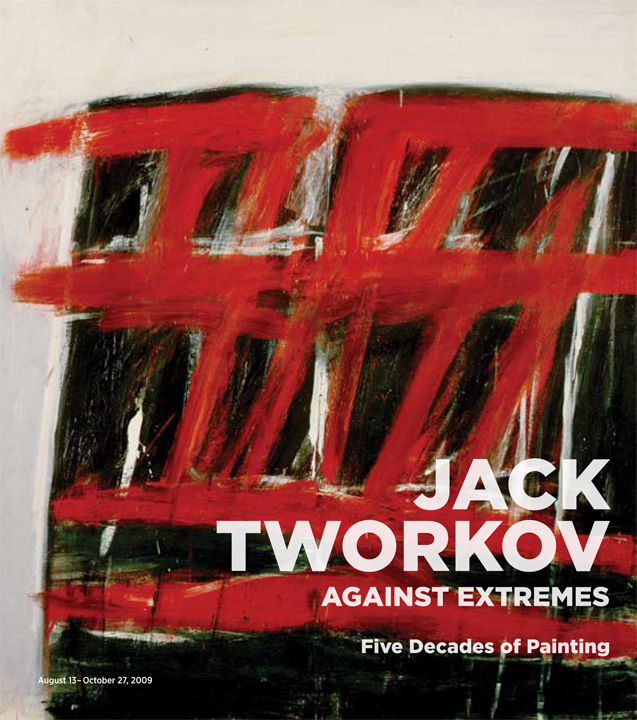 The UBS Art Gallery is pleased to present New York City's first-ever comprehensive survey of the work of American painter Jack Tworkov (1900-1982). A founding member of the New York School, Jack Tworkov is regarded as one of its defining figures, along with Willem de Kooning, Philip Guston, Jackson Pollock and Franz Kline, whose gestural paintings and dramatic strokes defined the Abstract Expressionist movement in America. Jack Tworkov: Against Extremes – Five Decades of Painting, on view from August 13 to October 27, 2009, offers a chronological arrangement of Tworkov's most celebrated works lent from prominent private and public collections including The Albright-Knox Art Gallery (Buffalo, NY), The Hirshhorn Museum and Sculpture Garden (Washington, DC), The Metropolitan Museum of Art (New York, NY), and The Provincetown Art Association and Museum (MA). The exhibition reflects the artist's transitions and evolutions over his brilliant five-decade career. Against Extremes is curated by Jason Andrew and will feature 26 paintings and related drawings, including many rarely seen works from the Estate of Jack Tworkov. The exhibition is accompanied by an essay by David Anfam, the noted historian and Mark Rothko scholar. Highlights range from the artist's Social Realist paintings and drawings of the 1930s and 1940s, to major Abstract Expressionist canvases of the 1950s and 1960s, and finally to the geometrically inspired paintings of the 1970s and early 1980s. Challenging himself throughout his career, Tworkov said he was interested in "the extreme of the middle – the creative middle," struggling to surpass external pressures to conform to a particular style, while also fighting an internal battle of self-definition.
Jack Tworkov: Against Extremes – Five Decades of Painting is made possible by UBS.
About Jack Tworkov. Jack Tworkov was born in Biala, Poland in 1900 and emigrated with his family to New York in 1913. Growing up in a tenement on the Lower East Side, Tworkov originally intended to become a writer and studied at Columbia University. The plan changed when he encountered the paintings of Cézanne and Matisse. After training at the National Academy of Design and the Art Students League, Tworkov immersed himself in the early Provincetown art scene, studying with artists Karl Knaths and Ross Moffett. One of the earliest works on view is Fisherman's Family (1931), a seemingly realist oil painting of a family scene. Upon a closer look, the work reveals a dreamlike merging of the indoors and outdoors.
In the 1930s and 1940s, Tworkov started a family, worked for the WPA Federal Art Project and briefly stopped painting to contribute to the war effort as a draftsman. When he resumed painting in 1945, Tworkov began experimenting with an academic approach to abstraction through the study of still life and the figure. Untitled (Seated Figure) (c. 1950) encapsulates the beginnings of this experimental shift from figuration to abstraction, and also shows the influence of artistic discussions between Tworkov and Willem de Kooning, a close friend and studio neighbor.
Tworkov defined his mature Abstract Expressionist style in the 1950s and 1960s, with grand canvases highlighting his signature flame-like brushstrokes and energetic gestures. He became well known at this time, exhibiting work at Charles Egan Gallery, Stable Gallery and Leo Castelli. Tworkov was featured in many historic exhibitions that defined the period including "New American Painting" organized by The Museum of Modern Art, which introduced the world to Abstract Expressionism and toured Europe in 1958. Tworkov was honored with a solo exhibition at the Whitney Museum of American Art in 1964 that also had a national tour. Important paintings on view from this period include Blue Cradle (1956) and Thursday (1960), which feature strong colors and gestures, as well as Crossfield I (1968), which hints at the final phase of Tworkov's career in its grid-like structure and layered lines.
By the late 1960s, Tworkov entered a more serene and contemplative period, moving towards structure and geometry yet always retaining the gesture of the brushwork. Tworkov's late paintings of the 1970s and early 1980s demonstrate a compositional framework based in mathematics, providing an underlying system in which his brushwork quietly generates strength and power. Large-scale paintings such as Partitions (1971) and Roman XI (1981) feature Tworkov's gestures confined to complex shapes and guided by lines or grids. Tworkov remained active and continued to paint and teach until the final months of his life. He died in Provincetown in 1982.
A concurrent exhibition of the artist's letters, notebooks, journals and photographs will be on view at the Archives of American Art's New York Research Center and Gallery, also located in the UBS building. Additionally, The Extreme of the Middle: Writings of Jack Tworkov, edited by Mira Schor, has recently been published by Yale University Press.
About Norte Maar. Norte Maar for Collaborative Projects in the Arts is a 501(c)3 not-for-profit arts organization which creates, promotes and presents collaborations within the disciplines of visual, literary, and the performing arts: connecting visual artists, choreographers, composers, writers and other originating artists with venues and each other. Founded in 2004, Norte Maar encourages and supports innovative and educational projects in the arts, offering unique exhibitions and unusual performances. The organization aims to be a leader in building collaborative partnerships between artists and other organizations whereby uniting cultural forces to foster artistic expression and raising the imaginative energy in us all.
Norte Maar is supported by the Friends of Norte Maar, a small group of generous individuals who seek to promote collaborative relationships in our time. For more information about Norte Maar please visit www.nortemaar.org.
About UBS. Headquartered in Zurich and Basel, Switzerland, UBS is one of the world's leading financial firms. It serves a discerning, international client base with its wealth management, investment banking and asset management businesses. In Switzerland, UBS is the market leader in retail and commercial banking. UBS is present in all major financial centers worldwide. It has offices in over 50 countries, with about 38% of its employees working in the Americas, 34% in Switzerland, 15% in the rest of Europe and 13% in Asia Pacific. UBS employs more than 75,000 people around the world. Its shares are listed on the SIX Swiss Exchange, the New York Stock Exchange (NYSE) and the Tokyo Stock Exchange (TSE).
Hours and Admission. The UBS Art Gallery is located in the UBS Building at 1285 Avenue of the Americas (between 51st and 52nd Streets) in New York City.  The Gallery is on the ground floor of the building and exhibition hours are Monday through Friday, 8:00 a.m. until 6:00 p.m.  Admission is free.